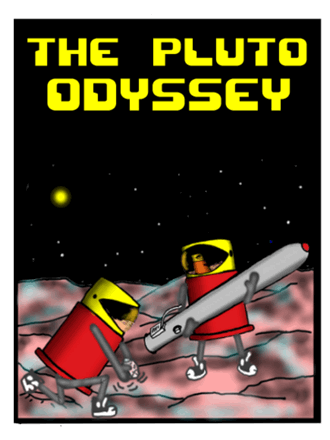 About a decade and a half ago, while going through my portfolio of cartoons that I had originally drawn back in 1976, I came across one that was supposed to be a parody of "2001 A Space Odyssey." It was funny in my own twisted high school way and had a few good jokes in it, so I decided to modernize it and do some re-writing. Working on it every now and then, I finished it just about the time that the New Horizon mission was launched toward Pluto. I figured then to put it away and bring it back when New Horizon reached Pluto. Of course it was somewhat outdated by the time that 2014 rolled around, so I did some additional re-work on it.
Now you have this re-tread, of an old re-tread. Each week you will travel with the ants as they head off toward Pluto. Some of the artwork is still 1976 vintage as is some of the humor- please forgive me. Of course, I could have re-done my 1975 parody of the S.W.A.T. TV show...then you would really suffer.
In the meantime sit back and enjoy The Pluto Odyssey.